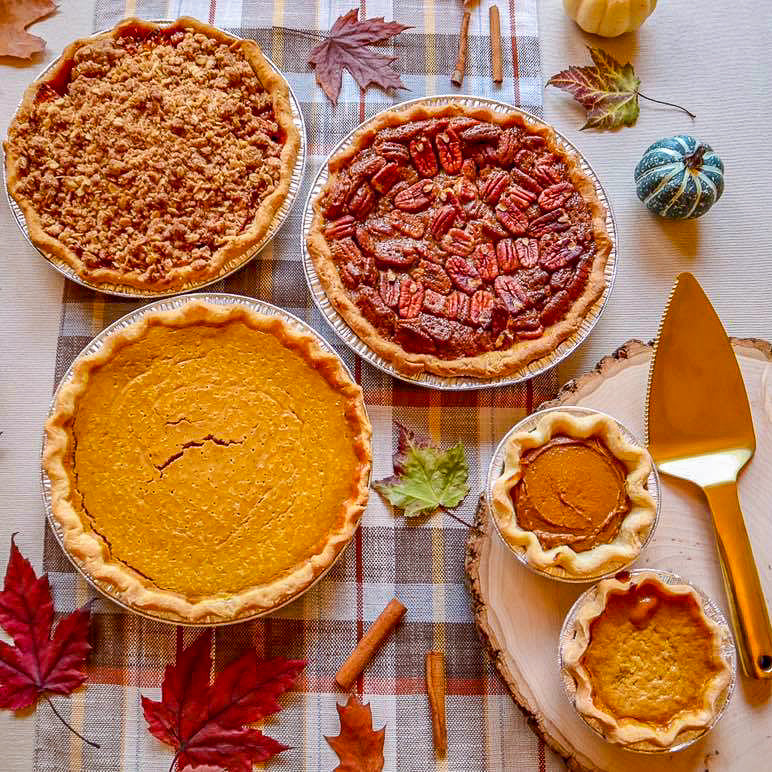 Order Today-Thanksgiving is right around the corner-November 28th 
Can you believe it's November already?
We can, and we are excited because it means we can now accept your Thanksgiving order!
Our Holiday Thanksgiving menu adheres to the classics, transformed into delicious, gluten-free versions. From perfectly pureed pumpkin pie, to brown-sugared apple streusel pie, we have something for everyone to enjoy (gluten-free or not!). Looking for vegan rolls? We've got 'em! Pre-seasoned stuffing mix? Yes! Find everything you need inside our retail bakery. Order online, call us, or visit us in person (1700 SE 6th Avenue, 97214) to make your Thanksgiving as delicious and as easy as pie. 😉
 Please read the following important details before placing your order:
All Thanksgiving holiday orders must be picked up by

5:00PM on November 27th

(our bakery is closed Thanksgiving Day and the Friday after Thanksgiving). All orders are for pick up in our retail bakery ONLY and we require a minimum of three days' notice-no exceptions. If you are unable to place your order within our three-day lead time, we will have pies, cinnamon rolls, breads & pastries available first come first served, so plan ahead or get here early for best selection! Sorry, we cannot HOLD items for you even if you offer to pay over the phone. THE LAST DAY TO PLACE YOUR HOLIDAY ORDER IS NOVEMBER 24TH BY 12PM PST.
***WANT TO SHIP OUR ROLLS & STUFFING MIX TO FRIENDS AND FAMILY? This year, for the first time ever, you can treat your family and friends to rolls, stuffing mix, & artisan breads shipped to their doorstep (begins November 5th). PLACE YOUR SHIPPING ORDER HERE.***
Your Holiday order will be ready for pick up any time during our business hours. If you wish to come early or later on the day of your scheduled pick up, no need to call us. We will have it here ready for you. If you wish to adjust the day of your pick-up order, please call our bakery at 503-546-4901 as soon as possible. We will do our best to accommodate your request.
We will not be baking our Hoagie Rolls or Marbled Whole Grain Bread November 25th through November 27th, and these breads will not be available for order until after the holiday. Orders placed for these products during this time frame will be refunded.
Any holiday orders placed for pick up after the 27th of November will be issued a refund back to your original form of payment, as these items will not be available after the holiday. See our Holiday FAQ & Refund Policy.
Can you order other NCT bakery items to pick up with your holiday pies and rolls? Yes! See our links below.
If you have questions or need clarification, give us a call at our retail bakery 503-546-4901, or reach out to us via e-mail shop@newcascadiatraditional.com
Now on to the fun stuff!
TAKE ME TO YOUR HOLIDAY ORDERS COLLECTION
TAKE ME TO YOUR PASTRY COLLECTION
TAKE ME TO YOUR BREAD COLLECTION